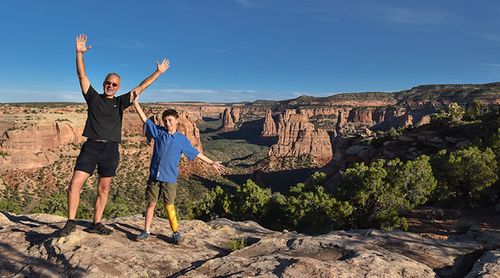 Edward DeCroce
An internationally published award-winning commercial & advertising photographer, Edward C. DeCroce has been selected 3 best Denver commercial photographers since 2017. Based in Colorado, DeCroce focuses on people for print and web usage. His expertise includes commercial photo-shoots, lifestyle, editorial, industrial, fashion photography, executive portraiture and advertising photography. Edward's uncommon style is drawn from his background in both photojournalism and portraiture.
As a commercial photographer Denver, DeCroce's client list includes executive portraits of top CEOs, and federal judges. Large corporations and small companies alike have relied on DeCroce for decades. The studio was founded in 1960 by Edward's parents Edward A. and Signe (Barstad) DeCroce.
Edward (the younger) has been making photographs since as long as he can remember. He began his career working at his father's studio in Denver Colorado before he was a teenager. He assisted on Denver commercial and portrait sessions and shot his first solo wedding when he was sixteen.
After earning a degree in art, Edward honed his skills as a photojournalist in Colorado. He worked for newspapers like The Gunnison CountryTimes and Crested Butte Chronicle before settling in Denver where he photographed for magazines like Colorado Homes & Lifestyles. His craft continued to evolve with Colorado fine-art photography of the western U.S.
Having captured extraordinary photographs world wide during the past 30 years, Edward is a seasoned professional photographer. "I feel so lucky to be a photographer. "When I work with people. I see a back-stage view of their lives. The connection made often lasts a lifetime and beyond."